My son, Brandon, was a 21-year-old man when he suffered a severe traumatic brain injury from a motor vehicle crash in 2001. He was a young, strong, healthy man with a bright future. In one split second his life dramatically changed. He had been drinking and chose to get behind the wheel, which resulted in a life-changing event. The effects of that choice not only took the life of his best friend but changed his life forever. CHOICES MATTER! For the last 17.5 years since his crash, Brandon has been a warrior. Now, it is his time to rest. On January 21, 2019 at 12:05am Brandon went to Heaven, where he could be independent again and run free, retiring from the Team, exactly six years after his first full marathon. Read more about Brandon's story on the About Us page under Our Story.
Vow to Drive Sober® 2023 5K/1-Mile Run at ARIZONA FALLS | GR HERBERGER PARK ARCADIA, PHOENIX, AZ
Team Brandon is proud to put on our 7th Annual Vow to Drive Sober® 5K/1 Mile Run, Walk and Wheel, Event on December 2, 2023. Every year this run is dedicated to the loving memory of Brandon Gray.
December is National Impaired Driving Prevention Month.
Vow to Drive Sober®Run Race Registration: http://www.VowToDriveSober.org
Secure your 2023 Custom Finisher Medal as you cross the finish line.
Photos provided by John Pham.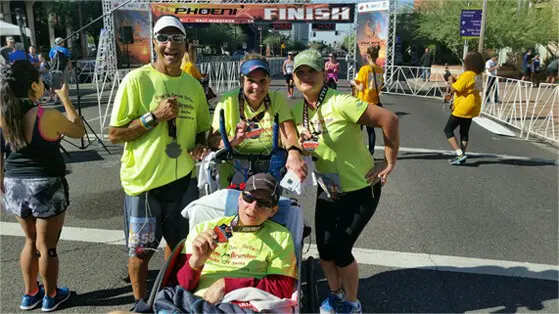 Completing a race is an amazing feeling, but think how much better you will feel knowing you are RUNNING FOR A REASON! Join Team Brandon in December at their Annual Vow to Drive Sober® 5K/1-Mile Run, Walk, Wheel. For more information and registration please visit https://vowtodrivesober.org/
We are a non-profit organization that presents our story, from the offender's point of view, about the life-altering effects of impaired driving, to schools, professional athletes, corporations, DUI Offenders and community groups. During the Pandemic I am offering Virtual presentations via Zoom or Teams.