Invite Us to Share Our Story
We present our story, from the offender's point of view, about the life-altering effects of drinking/drugging & driving. We speak at schools, corporations and community groups. Call Cari Fonseca @ 602-619-5558 or email [email protected] to schedule a presentation.
Run with Team Brandon
Completing a race is an amazing feeling, but think how much better you will feel knowing you are RUNNING FOR A REASON! Join Team Brandon in December for their Annual Vow to Drive Sober 5K/1-Mile Run, Walk, Wheel. For more information and registration please visit https://vowtodrivesober.org/
My son, Brandon, was a 21-year- old man when he suffered a severe traumatic brain injury from a motor vehicle crash in 2001.  He was a young, strong, healthy man with a bright future.  In one split second his life dramatically changed.  He and his friends had been drinking and Brandon chose to get behind the wheel, which resulted in a life-changing event. That choice took the life of his best friend, injured another friend physically and emotionally, and permanently altered Brandon's chances of living an independent life without round-the-clock care. CHOICES MATTER!
For the last 17.5 years since his crash, Brandon has been a warrior. Now, it is his time to rest. On January 21, 2019 at 12:05am Brandon went home to Heaven. 
Brandon lived for 17.5 years with his traumatic brain injury that created many limitations, not the life any parent dreams for their child. He was dependent on me and our family for all his basic needs – things we take for granted. He was wheelchair bound and needed 24-hour care. When someone experiences the unimaginable and somehow manages to get through it … something amazing can happen.  Due to my unconditional love, I never gave up on my son. Inspired by the beloved Boston Marathon father-son wheelchair team, Dick and Rick Hoyt, I started pushing Brandon through marathons to raise awareness about the life-altering effects of drinking and driving and traumatic injuries. Brandon went from Offender to Inspirer. We turned a Tragedy into Triumph and Team Brandon was born. Team Brandon doesn't judge and is about forgiveness. We share our message with forgiveness, love and honesty. When people ask me if Brandon served time in prison for manslaughter, I tell them this: "Brandon was convicted of his crime and served a 17.5-year life-sentence trapped in his body and mind!" He got the death penalty. I know this sounds harsh, but ultimately this is his story.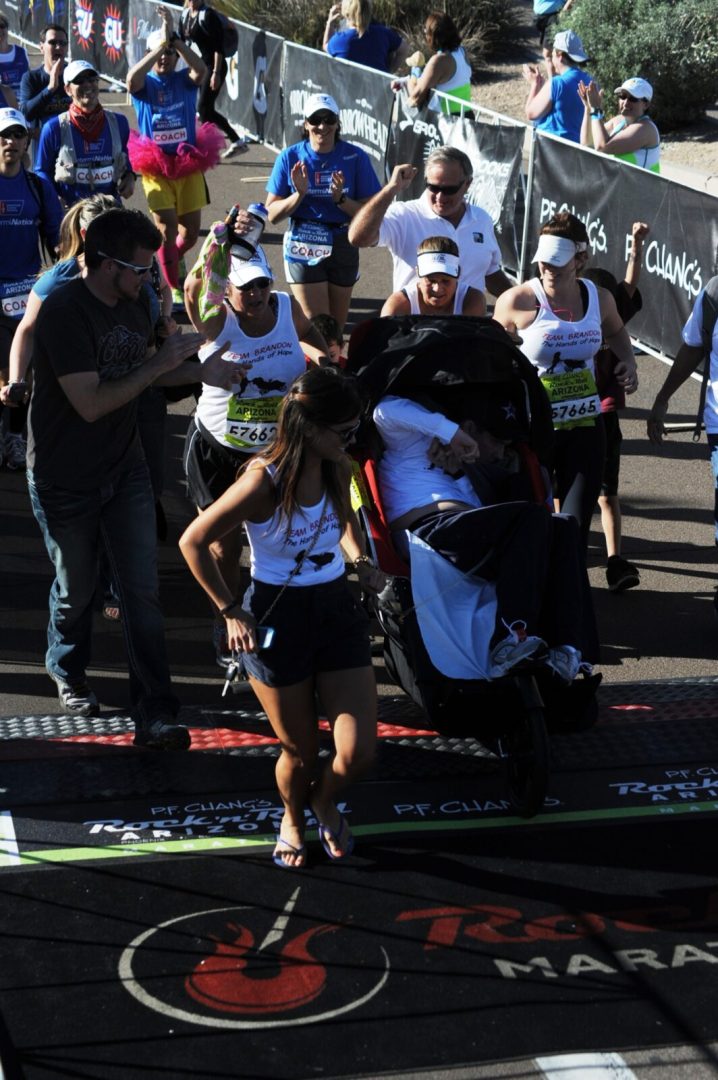 We completed our first full marathon in January 2013 at the Arizona P.F. Chang's Rock 'n' Roll Marathon. Who would have thought the short walks we started in 2012, pushing my 6 ft. 200 lb. son, would have resulted in completing 6 full marathons, countless half marathons & many other distance races, having run over 6,500 miles by January 2019. Team Brandon has achieved the Rock 'n' Roll's Triple Crown, Encore, Cali Coast Heavy Medals & the Desert Double Down. Before his passing, he was able to participate in the 1st and 2nd Annual Vow to Drive Sober® 5k/1 Mile Run Event in downtown Phoenix. Brandon is free from the pain, suffering and limitations that his choice to drink and drive caused. Brandon retired (passed away) from the Team, exactly six years after his first full marathon.
To foster our message, Team Brandon raises funds that allow our foundation to continue spreading our Vow to Drive Sober® message in schools, worksites, victim impact panels and communities.  We continue to share our story with teens and their parents to discourage underage drinking but realistically promote the importance of using a designated driver and other safe alternative transportation. I always say "Your parents would much rather get a phone call from you, saying I am drunk, please pick me up" than having a police officer call or show up at your house saying, "Your son/daughter was killed/or killed someone in a drinking and driving accident."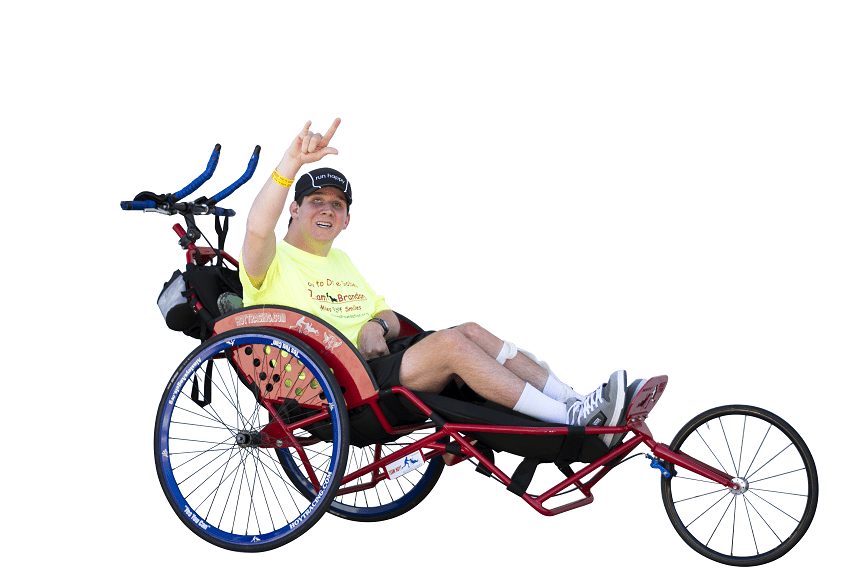 Because Brandon was the Offender, Team Brandon had the unfortunate advantage to grab at the heartstrings of our audience as we encourage people to choose to drive sober. Our presentations were truly effective when Brandon and I presented together. Even though our Captain has retired we will continue to present our Vow to Drive Sober® message. The audience will still be able to conceptualize the heartbreak versus having a picture painted for them, because our story is REAL LIFE. A light bulb goes on quickly and sends the message … I have a choice. I don't have to drink and drive. I can make a difference! This light bulb moment matters for you and your loved ones! Although we all have a choice to drive sober, unfortunately, we do not have control over those who do make a poor choice. When people hear Brandon's story and see our video, they are emotionally charged to reconsider their decision to drink and drive. To add value to our program, our primary partners are the local DUI Task Force officers who take time to engage the audience by answering questions and performing mock field sobriety tests with our 3 different level of beer goggles and cannabis goggles. We don't feel that alcohol is the enemy for those over 21. Our message is very simple – Plan ahead, use alternative transportation, Vow to Drive Sober® and Party Smart.
Brandon Gray ~ June 12, 1980-January 21, 2019
A Star that Shone Brighter Than the Others and a Smile That Never Ended.