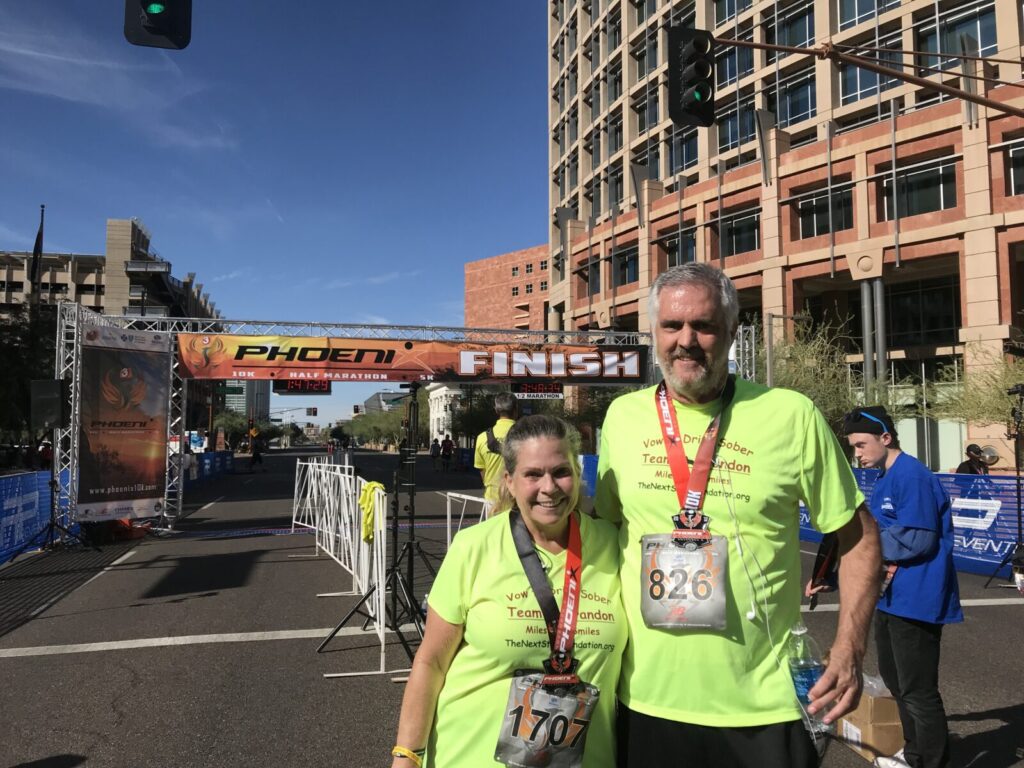 WEEK 9 RECAP


the worst day of your life over and over again in front of hundreds of strangers. Most of the re-creations provoke gasps and tears. Any incurred expenses will come from your coffers and there's no guarantee your efforts will generate the desired results. If this sounds like a cruel punishment, you may be surprised to learn that Cari Fonseca volunteers to do it and wants to increase the frequency.
The catalyst was a Monday evening at 7:30 when her home phone rang, Considering the time and day, it should have been a friend, relative or telemarketer calling. Instead, it was her son's buddy with a message that made her go numb and altered the course of her life.
Her son, Brandon, along with friend Joey and Adam, were known as the "Three Musketeers" because they were inseparable for nearly 17 years. Joey struggled but finally blurted to Cari that Brandon and Adam had been a violent car crash. Brandon was the driver, Adam was in the passenger seat and their mutual friend, Jessica, was in the back seat.
It was August 20, 2001, just two months after Brandon's 21st birthday. The trio was en route to Brandon's apartment after several hours of "day drinking" – a few beers here, a few more there. One mile from the destination, Brandon's Honda veered into oncoming traffic and collided with a large van.
"Parents worry about their kids in the late night hours of a weekend," said Cari. "This happened on an ordinary Monday. I was in shock."
She frantically called area hospitals to locate where her "John Doe" was airlifted. It took two calls and one high-speed drive to get to his bedside. Doctors advised Cari to summon anyone who would want to say their goodbyes. Adam had already passed away before his family arrived. Jessica escaped significant injuries but would face a heavy dose of survivor's guilt. Nobody in the other vehicles involved were hurt although the van's driver fled and police later confirmed it had been reported stolen.
Brandon survived those critical hours but spent the next month on life support.  His family was told that he'd face vehicular manslaughter charges when he recovered.  That still hasn't materialized but the family is certainly serving a de facto life sentence.
He was officially diagnosed with a Traumatic Brain Injury and spent the next 18 months in and out of the hospital. He retained some long-term memories like colors, shapes and his birthday but he can't converse enough to determine any recollection of the accident or knowledge of Adam's fate. His days are now filled by watching videos and playing a handheld computer game with buttons and sounds that provide stimulation.
The plan on Sunday was to help Cari push Brandon in the 41st Annual 3TV Phoenix Half Marathon but he was discharged from the hospital only four days earlier after a three-week hospital stay. Sixteen years after his accident, he endured two major surgeries to treat double aspiration pneumonia, gall stones and a urinary tract infection. He's currently on feeding tubes and his verbal communication abilities have eroded even more with no assurance they'll return.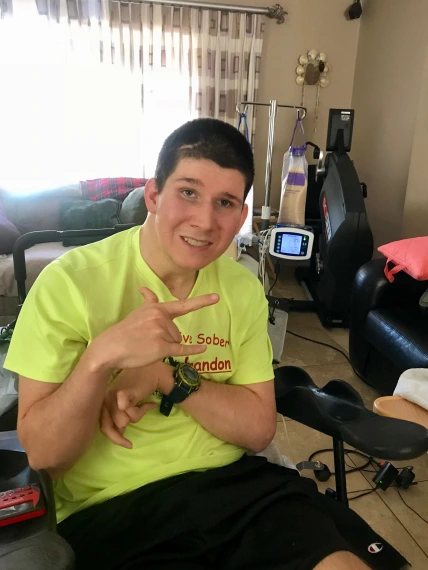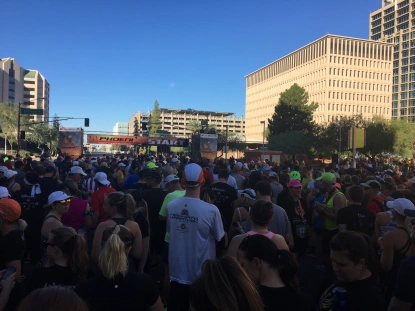 Since Brandon couldn't participate, I scaled back the mission to my first-ever 10k.IMG_0447 I arrived two hours early to scout my competition. I figured since I was entered, I may as well try to win. Yet when I spoke with some other runners, I learned they actually trained for this event and even seemed excited to run. I adjusted my expectations from winning to surviving.
The down time set my mind racing before my feet started: "Why did they ask me for an emergency contact?," "Should I carry a flare?," "Were three Jack in the Box tacos really the best choice for a pre-race carb load?"
Fortunately, Cari downshifted her pace so I could keep up. That gave me ample time to ask questions about life before, on and since the fateful day.
Prior to the accident, Brandon was a strong, active young man. In a stranger-than-fiction irony, the family operated "Neuro-strength Physical Therapy," a clinic that treated patients with spinal cord and brain injuries. Brandon worked there with his parents while taking related classes at Paradise Valley Community College. His stepfather, Arnie, taught many patients how to use adaptive equipment so they could enjoy skiing and other activities.
Brandon often told Arnie how they would grow the business after he graduated. In 2002, Arnie completed that goal by opening a 6,500 square foot facility in Tempe that featured physical, occupational and speech therapy. Brandon became "Patient #1" and relearned how to feed himself and walk with a walker. Arnie founded The Next Step Foundation two years later to relay how Brandon's split-second decision turned into a
life-changer. Unfortunately, the economic crisis and rising medical expenses forced the family to close the clinic in 2012.
Cari had been inspired by the story of Dick Hoyt, an ESPY award winner. He wasn't an accomplished athlete but he dedicated himself to the sport and went on to push his son in a custom wheelchair in 72 marathons and seven triathlons. She began pushing Brandon in his chair for morning neighborhood walks and eventually registered for their first competition. The duo has now participated in six marathons and numerous other long-distance races. It was a healthy way to promote their foundation but Cari couldn't shake the feeling that she could do more.
In 2012, a divine intervention stopped her in her tracks. Brandon deserved to be more than another statistic so she decided to turn the tragedy into a strategy. She began cold-calling Valley high schools offering to share Brandon's story as part of a campaign called "Vow to Drive Sober." They've since been to more than 100 schools and clubs throughout Arizona (as well as California and New Mexico), primarily before Homecoming, Prom and Graduation when their message is especially timely.
She begins the assemblies by selecting a dozen volunteers to role-play in scenarios that teach ways to prevent their friends from driving after they've been drinking. They then try on three sets of "beer goggles" that replicate vision after slight, moderate and heavy drinking. The most emotional component is a 12-minute video the family produced that features footage of Brandon before the accident, news coverage of the collision and interviews with Jessica and family members. A Q&A session concludes every event.
It's a sobering reality for a demographic that feels invincible even though a Cactus Shadows HS student died last Thursday afternoon when the 21-year-old driver in her car and the driver of the other vehicle were both impaired. Some students; however, make the effort to approach Cari afterward to offer a hug or share stories how drunk driving has affected their family.
It takes a team effort just to get Brandon's 180-pound body from the bed the into the bathroom and custom van just to get ready for each presentation. Yet, she still has critics — including her ex-husband/Brandon's father — who accused her of using Brandon as a sideshow prop. "Believe me, this is not how I planned to spend the rest of my life," she said. "But I can tell Brandon enjoys the interaction and applause and I just hope one kid in every audience learns from his mistake."
Rather than try to preach to people about drinking, she simply wants them to plan ahead. That's why she forged a partnership with Uber. The first time a passenger enters the promo code DRIVE SOBER in their Uber request, they receive a $20 discount (often covering the entire trip) and Team Brandon gets a $5 donation. She encourages people to download the app in advance so it's active when they need it.
As we crossed the finish line, I looked for a defibrillator and Cari sought people to invite to the inaugural Vow to Drive Sober 5k/1 mile Event and Expo on December 9th in downtown Phoenix. It's the first public event coordinated by The Next Step Foundation: Team Brandon. Cari used proceeds from a grant awarded by the Phoenix Suns in hopes to create an annual tradition. You can register at https://vowtodrivesober.org/
Cari and her family personify the adage that legacies are defined by deeds not mistakes. There are several ways to help. Click www.thenextstepfoundation.org to make a financial donation which can defray event costs and help other families with special needs procure running chairs. This could be an ideal volunteer opportunity for students who need community service hours. Also, if you know a school or civic organization that would want a presentation, email [email protected].